Boosting the performance of a WordPress site happens on many levels. There are a few things you can do to optimize a website, and they all work together towards one goal. One of the main things you have to do is optimize images properly. You can do this using the Robin Image Optimizer plugin.
There are actually some really good image compression and optimization tools out there today. Choosing the right one is always key. A lot of this will have to do with what exactly you look for, as well as personal preference. The image optimizer for WordPress that we're going to use today will give you access to some really great features.
What is WordPress Image Optimization?
Optimizing images in WordPress means that you take images that are uploaded to your WordPress media library and optimize them in many different ways. When you perform image optimization, your WordPress site will load faster and images will be ready for SEO so that Google and other search engines can read them properly.
Two of the main ways you can optimize images properly for WordPress are by compressing images and adding alt tags. You can also mess around with titles and captions, but compression for accurate upload speeds and alt tags that allow Google to understand the image are two of the most important.
In this article, I'm going to show you how to use a free image optimization tool for WordPress that will help you get all your images where they need to be. Let's take a look at the plugin we're going to use today and see what it has to offer.
Robin Image Optimizer
Robin Image Optimizer is a free image optimizer that can compress your images and help speed up your site by up to 80%. It compresses images and makes them more website friendly without losing any quality.
The plugin is completely free to use and does not limit how many images you are allowed to compress and optimize. The free version of the plugin only requires that the image weight should not exceed 5MB.
Robin Image Optimizer plugins work thinking that the lighter an image, the faster a page will load. This is true whether there is a single image or multiple images on a page. With the increasing use of mobile devices to access websites and content, it is extremely important that your website puts images right.
The plugin is easy to set up and easy to use. You can be up and running in just a few minutes. That said, it is still packed with many great features. Some of the main reasons you might want to use this free image optimizer for WordPress include:
The plugin is completely free to use
No restrictions or limits on image optimization
Automatic optimization using Cron, no wait
Optimize images in mass with the click of a button
All images are backed up before optimization begins
Select normal, regular or high compression mode
Optimize image on boot
Reduce pre-optimized weight by reducing image size
Detailed reports and statistics on image optimization
The plugin is easy to use and has an intuitive interface. Let it all get set up and running so you can start optimizing your images in WordPress.
Image Optimization Using Robin Image Optimizer
Step 1: Install and Start the Plugin
Before you can start manually or automatically image optimization, you first need to install and activate the Robin Image Optimizer plugin. You can do this by jumping over to the Plugins page in the WordPress admin dashboard.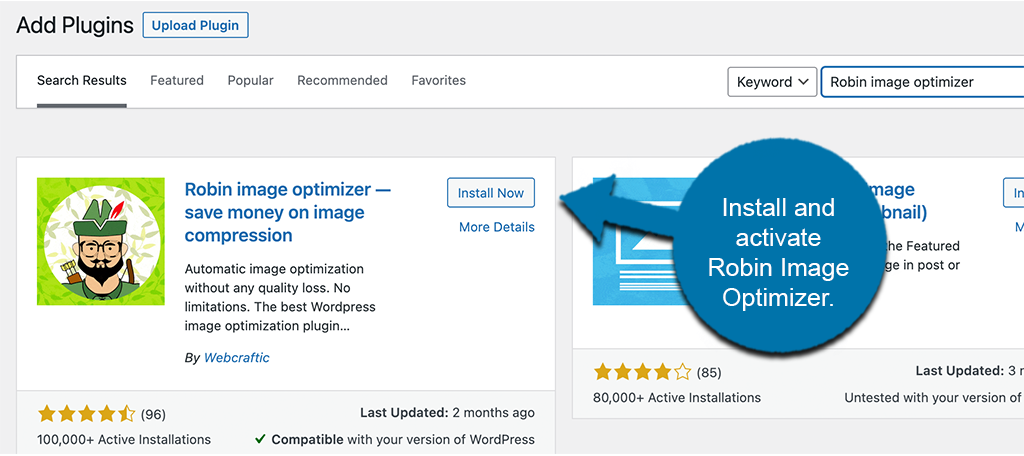 Once you're on the page, you'll notice a search field is available. Use that search field to search the plugin by name. When you see the right one pop up, install it and activate it from there.
Step 2: Go to the Settings Page
Now that you have installed and activated the plugin, you want to go directly to the main settings page. Here you will be able to start optimizing images and configuring the plugin exactly how you want.
To get there, click Settings> Robin Image Optimizer, which is located on the menu area of ​​the left side of the dashboard.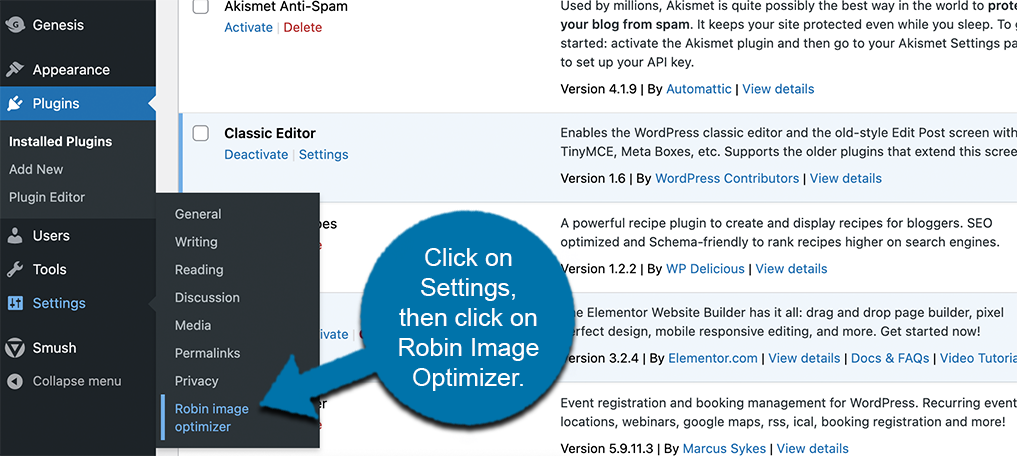 You can see that this option has appeared in your WordPress menu because you successfully installed and activated the plugin.
Step 3: Configure the Plug Settings
At this point, you are on the main settings and configuration page for the Robin Image Optimizer plugin. You will find it is neatly designed and looks easy to navigate.
Before you compress and optimize images, go ahead and configure the plugin settings to your liking. You will find three main tabs that you can use to navigate around. These include:
Bulk optimization
Settings
License
Go ahead and click on the "Settings" tab on the left and open those configuration options.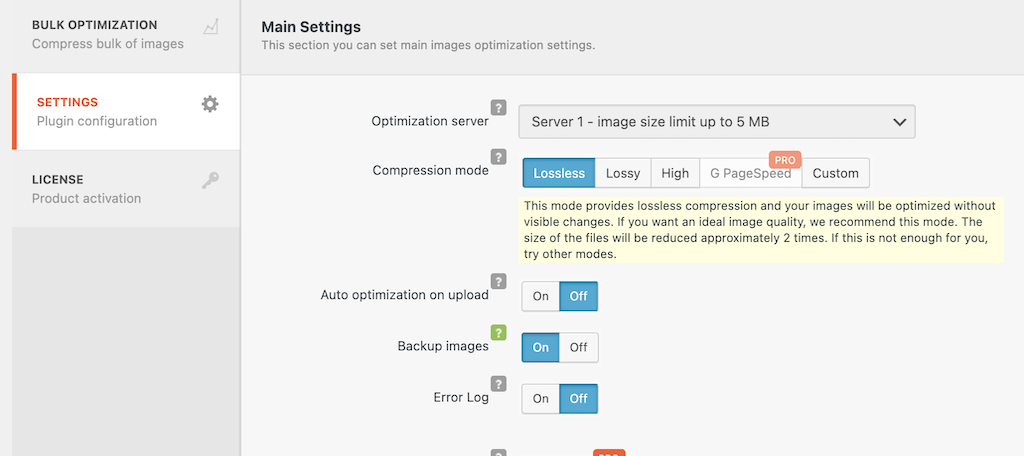 Now, start going through the main settings and get everything set right (according to what you want). This has options for compression mode, servers, errors, and more.
The top part of the page contains main settings for the plugin.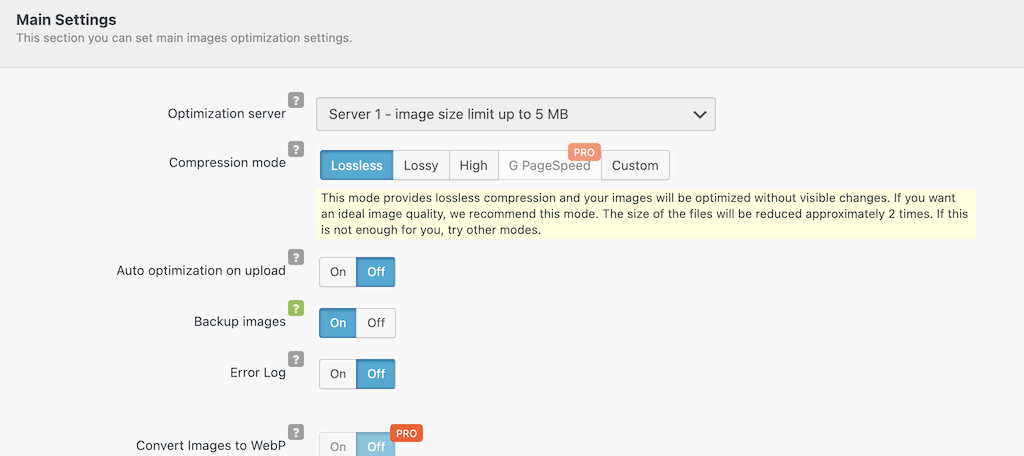 Now, scroll down a bit and you'll find optimization settings. This includes thumbnails, formats, and larger image formatting options.
Finally, the bottom of the page contains the scheduled and background optimization settings. This includes images by iteration and how often background optimization should run on your site.
When you are done, click on the green 'Save' button at the top of the page and all your configurations will be used automatically.
Step 4: Start Optimizing Images
Click on the bulk optimization tab. This is going to get you to where you need to go to start optimizing the images already on your site.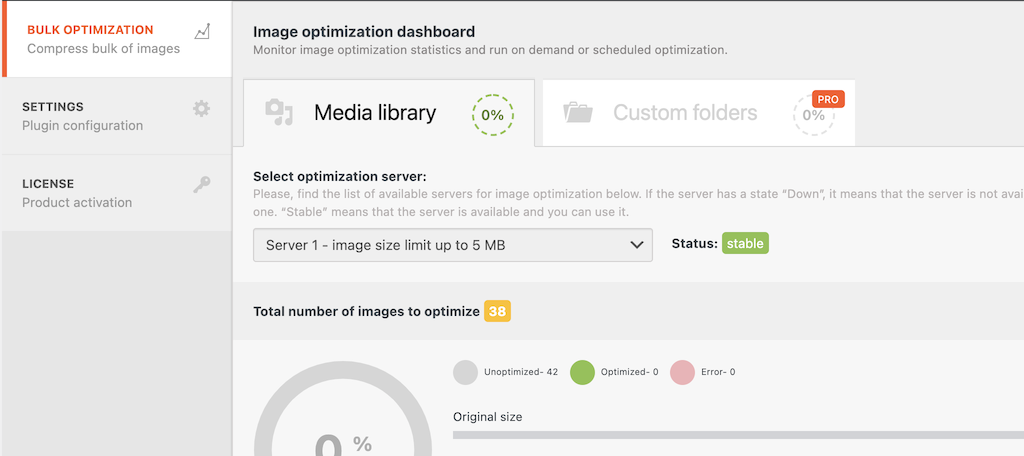 Select the server installation you want from the drop down menu. You can leave it on the default.
Now, scroll down a bit and click on the green "Optimize" button.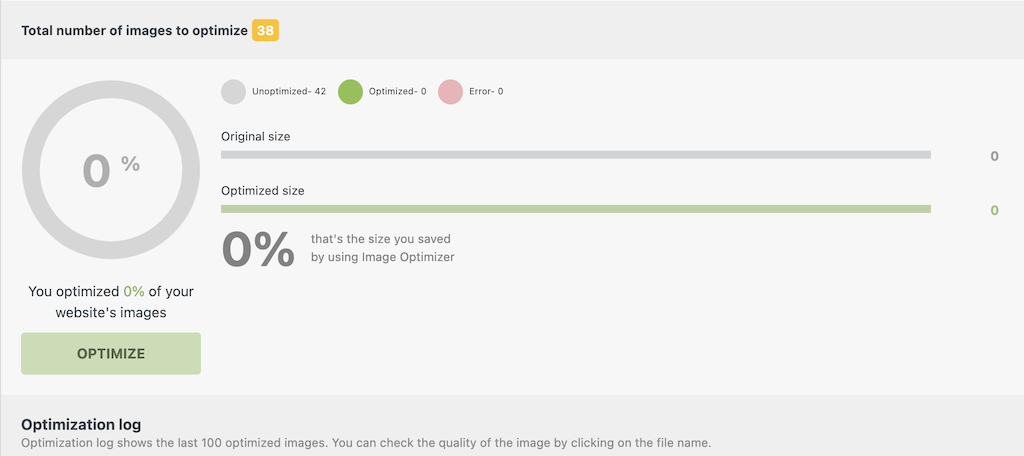 This brings up a popup box. You get some information and then you can decide if you want to optimize now or schedule optimization later.
For this tutorial, I'm choosing optimization now.
The optimization process will begin and you should stay on the page and track it. How long it will take depends on how many images need to be optimized. You can track it live.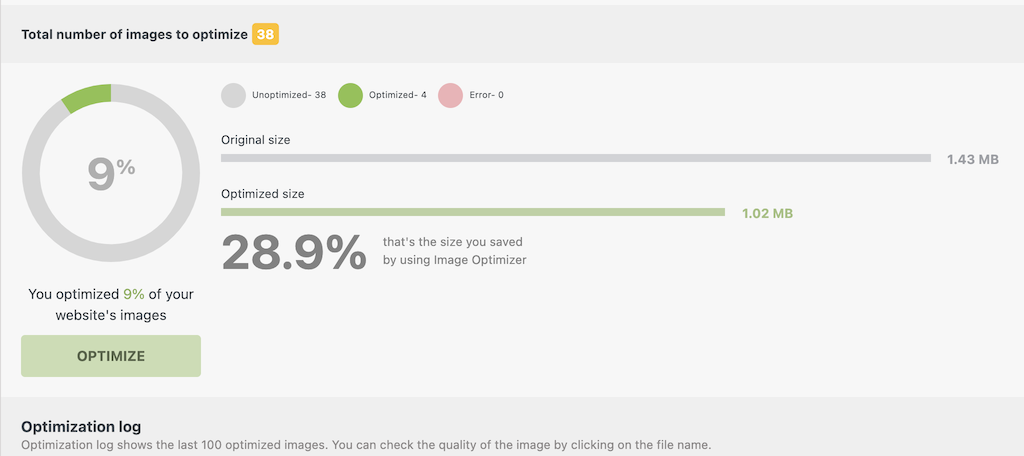 Step 5: View the Optimization Log
Robin Image Optimizer plugin provides users with a complete optimization log. You can view the log at any time. Scroll down to the bottom of the "Bulk Optimization" page and you'll find all the relevant statistics and statistics.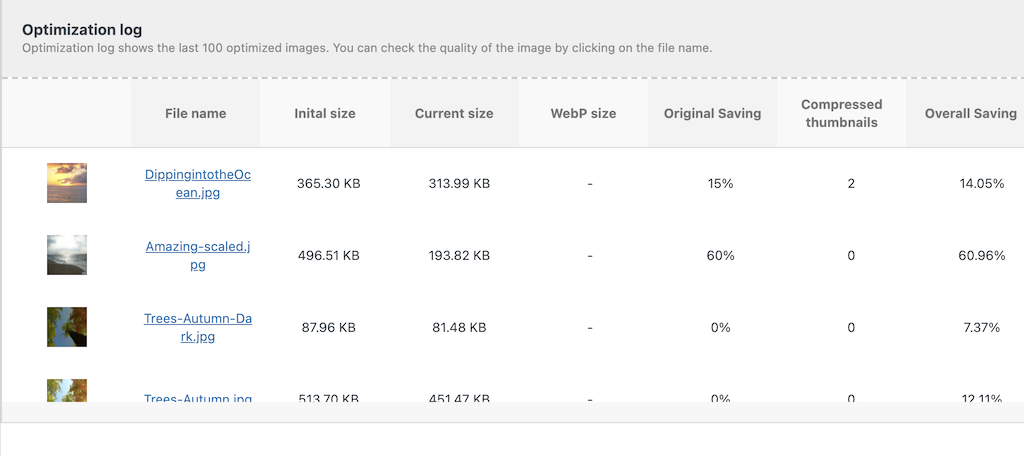 You can use this to see exactly what the plugin does for you.
There we are! You can optimize more images whenever you want. The plugin will also automatically optimize images when uploaded to your media library if you chose that option.
Frequently Asked Questions
Here are some frequently asked questions that you may be interested in.
What types of images are supported?
Robin Image Optimizer plugin supports .jpg, .png, and .gif. Images can be animated or not, both work.
Are There Image Optimization Limits?
No, Robin Image Optimizer is completely free to use. While they have a pro version of the plugin that gives you access to some other features, the pro version does not extend the limits of image optimization.
Is EXIF ​​Data extracted from images?
By default, EXIF ​​data is extracted. That said, you can easily prevent this from happening by disabling the feature within the plugin settings.
Final Thoughts
Image optimization is very important in terms of website speed and overall SEO. Optimizing images in WordPress doesn't have to be difficult, you just need the right tool.
Robin Image Optimizer is easy to use and gives you all the features you need.
Have you been manually optimizing images? Do you prefer to use a different compression plugin?