Does your website suffer from a high number of bots and crawler requests? This can cause huge performance problems and even cause 404 errors in some cases. However, you can avoid this by using the correct plugin, such as Booter.
This plugin can help block harmful bot applications and crawls, though it doesn't affect the good ones, like search engine bots. It also blocks links in the fastest ways by sending HTTP status code to make sure search engines forget about them.
Today I will demonstrate how to use the Booter plugin to manage WordPress crawlers.
Why Bot Management Is Important
Bots are computer programs that simulate normal user activity. They can continue to operate indefinitely if left alone. They can serve many purposes, and not all bots or crawlers are bad. In fact, many of them are necessary as a Google crawler.
However, just like everything else, bad bots exist and can tackle websites.
The bad kind of bots can steal data, upload malicious software or ransomware, launch Denial of Service (DDoS) attacks, and a variety of other things you don't want to happen. These can affect any type of website. But since WordPress sites are the most common, they are a bigger target.
That said, with a proper security plugin, you should be fine.
However, as your website grows and the data you house becomes more valuable, the security measures you take should grow as well. Therefore, managing bot activity and web crawling is essential.
How to Use Booter in WordPress
Step 1: Install Booter
Booter is a website bot manager that can detect and block bot activity in WordPress. Once you set it up, it will operate with no input on your end. However, due to the complexity of bot management, you will need to input some data that cannot be automated.
Overall, the induction process is not very difficult but it does require some specific knowledge.
To start, click on Plugins and select the Add New option on the left admin panel.
Search for Booter in the search box available. This may come up with additional plugins that you may find useful.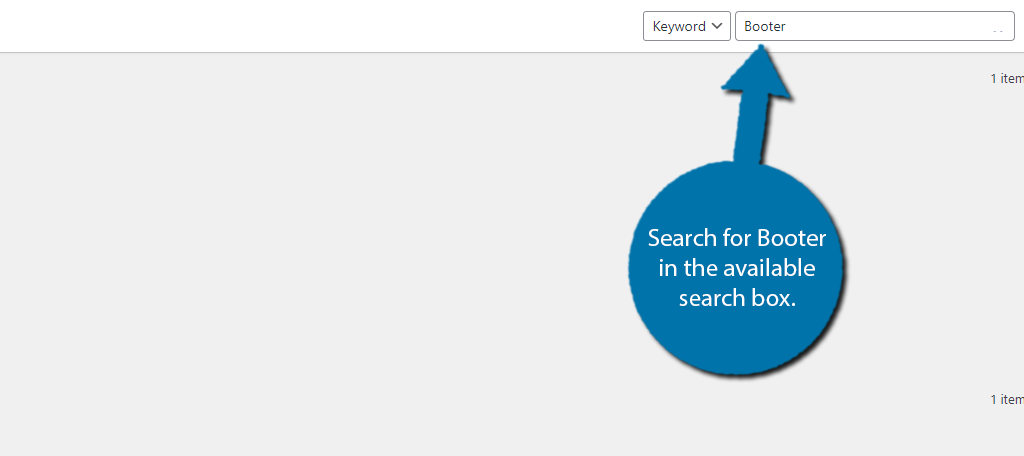 Scroll down until you find the Booter plugin and click the "Install Now" button and activate the plugin to use it.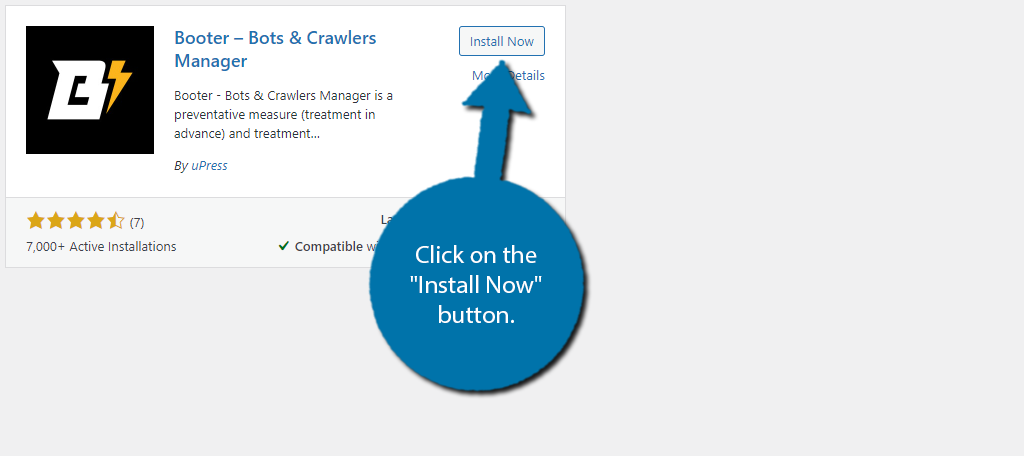 Step 2: Configure Settings
The plugin will start working immediately after activation. However, some of the key features online are not by default. You will have to go through the settings to make sure the plugin works exactly how you want.
On the admin panel on the left, click on Settings and select the Booter option.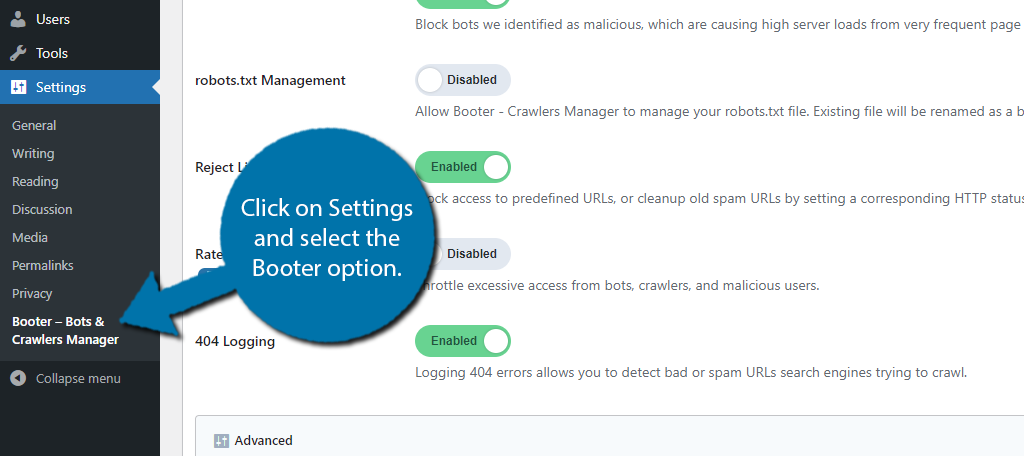 Fortunately, the plugin does a good job of explaining each location, but there are several tabs to go through.
Let's look at these together.
General
The General tab has all the main features of the plugin. You choose to enable or disable any of them by using the slider.
By default, the Bad Robots, Reject Links, and 404 blocking features are enabled. While the robots.txt Rate Control and Restriction options are off by default.
Robots.txt Management better protects the file from bots. It can even help SEO efforts with some of the more advanced options, which we will discuss later. Keep in mind that it will save the original file as a backup and create a new one if enabled.
The plugin recommends enabling the Rate Restriction feature that will trigger any excessive bot activity.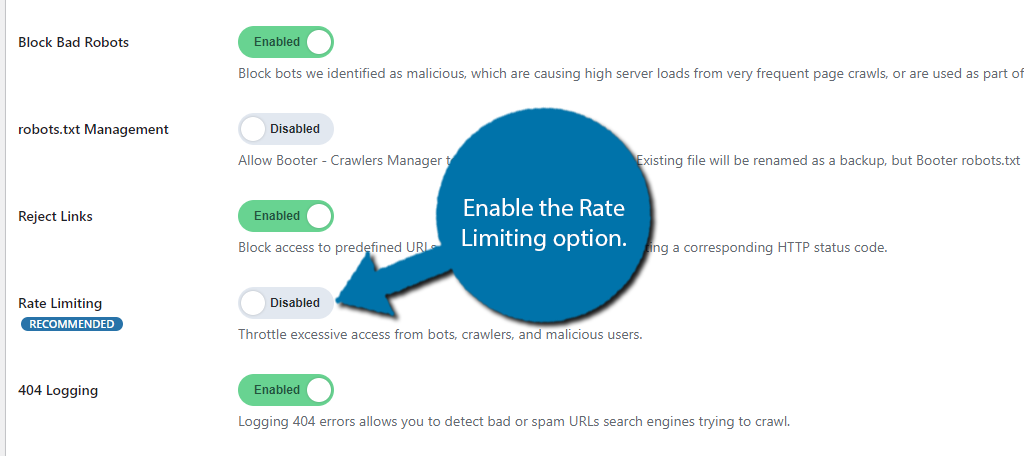 You can also check the status of all these features at the top of WordPress.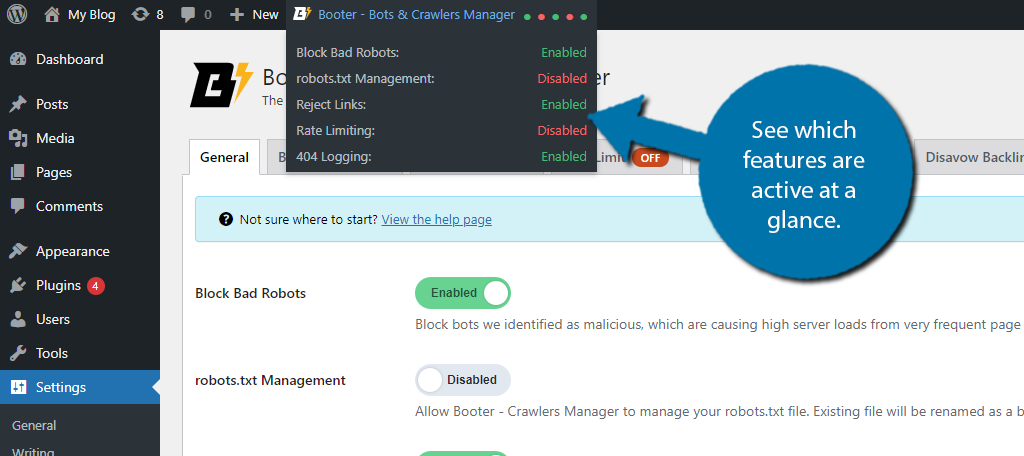 The advanced settings include two options. The first allows you to delete all data when you uninstall the plugin. While the second activates debugging the plugin to view each individual event and track issues.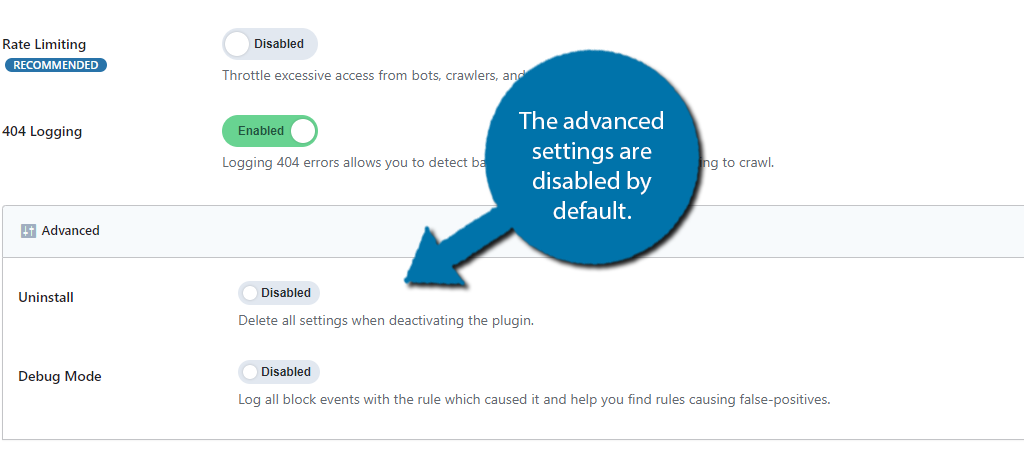 If you made any changes, click on the "Save Changes" button at the bottom.
Blocking Bad Bots
This section does not require input on your end, but contains a full list of bots that the plugin automatically blocks. The list is made up of bots with a malicious history and is constantly updated.
You can manually update the list by clicking the "Update Bad Bots From Predefined List" button.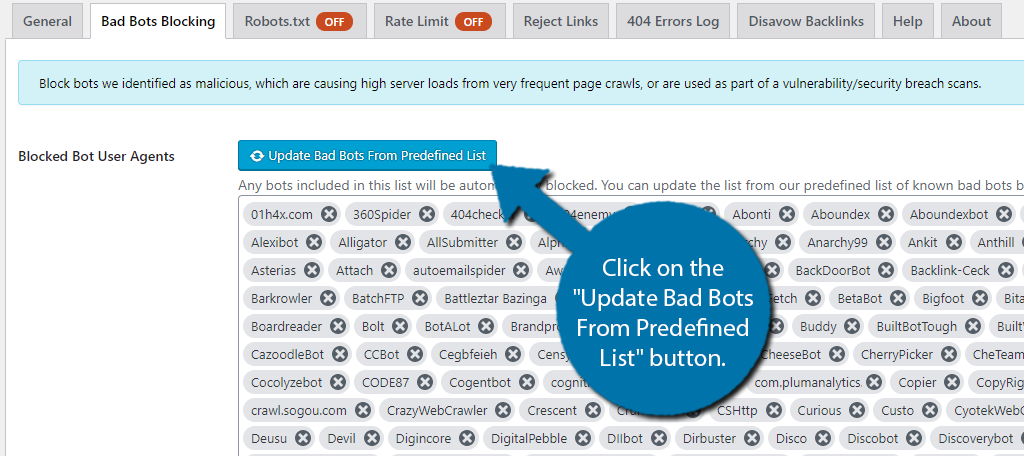 You can also remove any of the manually blocked bots. Although, I do not recommend doing this. They are on the list for a reason.
Robots.txt
The Robots.txt section is off by default. It allows you to further customize the feature. You can choose to deny access to the file to all crawlers. This request will be heard by all legitimate reptiles.
You can also make sure there is a link to the site map in the file to help the webcrawler bot search engine find it. I highly recommend turning this option on if you have chosen to enable the feature as a whole.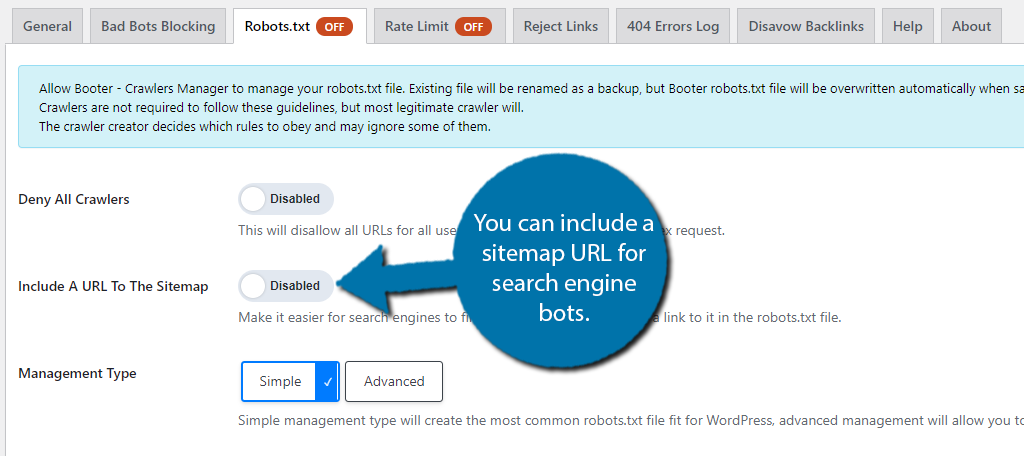 Don't forget to save if you changed.
Rate Limit
The Rate Limit section allows you to further customize the plugin. By default, it's off. And yet, it is recommended to be on. You can choose to restrict users who are logged in, how many applications trigger the limit, how long they should be blocked, excluding any user agents.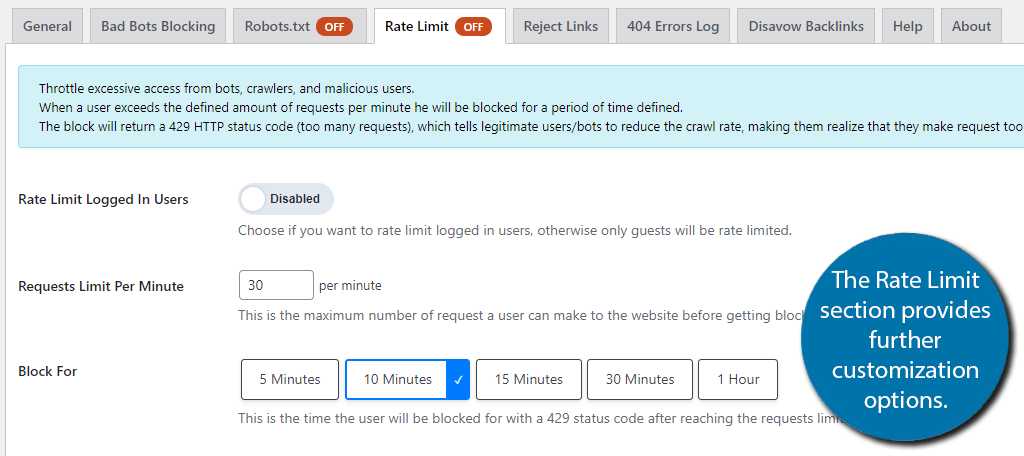 Note: Restricting real users can lead to a poor user experience. That said, some malicious users could create an account to get it through this installation. Therefore, setting a high application limit that only a bot could achieve is ideal.
Reject Links
Similar to the previous two, the Reject Links section allows you to further customize this feature. This one is on by default and the additional options include the ability to reject links from all or just bots, an option for WooCommerce URLs, URL strings, and multiple options for regular strings.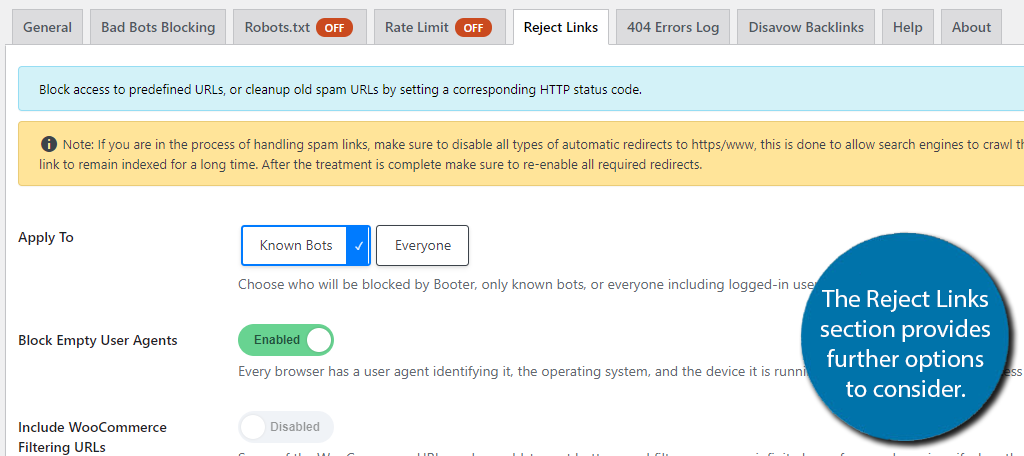 404 Log Errors and Disavow Backlinks
The next two sections require very little, so I'll combine them.
The 404 Error Log section allows you to determine how often an error report is sent to your email. By default, you will not receive one. But, you can set it for daily, weekly, or monthly.
Note: The plugin will send the reports to the admin email address. You cannot change this.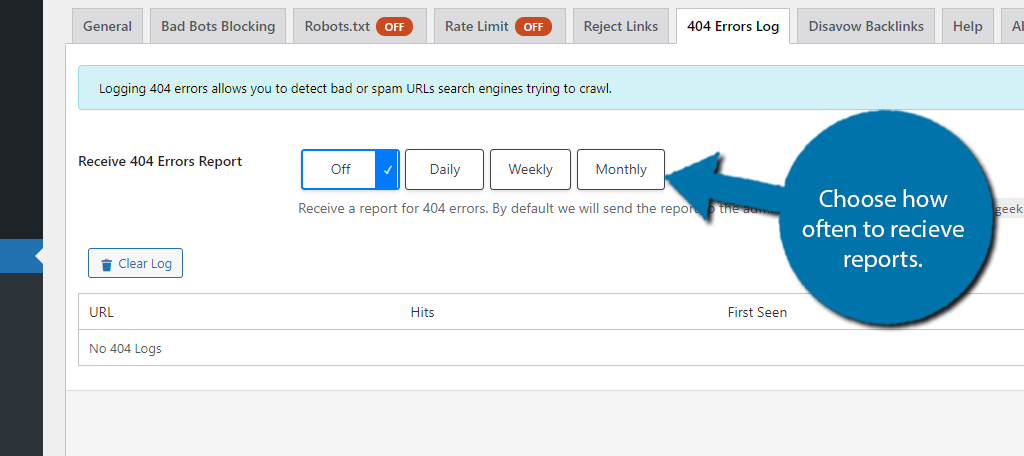 The Disavow Backlinks allows you to download a file that you can upload directly to a search engine (Google Search Console, Bing Webmaster Tools, etc.). It allows you to protect yourself from low quality links that lead to your site.
Click the "Download Disavow List" button to receive the file.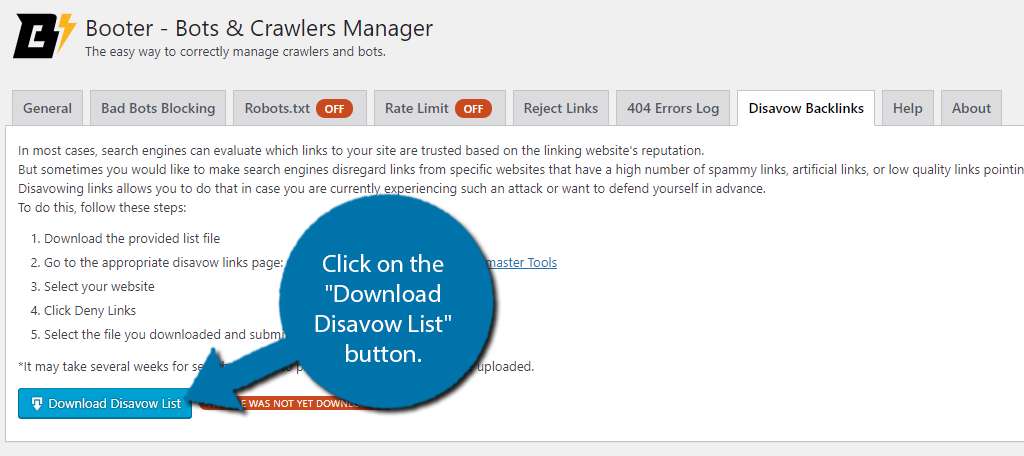 The remaining sections provide more information on how to use Booter and other facts. After going through all the settings and saving any changes made, you are officially done, congratulations.
Bots are becoming more common
As the internet ages, bots have become a much bigger part of it. While bots can be used for good or bad, there is no denying the risk. Therefore, all websites should have security measures in place to protect data and ensure the website is running well.
Booter does this and then some. This is the ideal tool for WordPress websites to manage bots because everything happens with very little interaction from you. Instead, you can still focus on making great content.
Do you find webcrawler bots in WordPress easy to manage? Are there any other plugins you use to handle bots?