If your web hosting company supports the software, you can use Softaculous's built-in WordPress Manager to manage your site. It allows you to customize almost every aspect without making you login to the WordPress admin panel.
Many developers find the Softaculous WordPress controller easier to use than cPanel because it is very compact and easy to navigate. Everything is exactly where you'd expect it to be, so there's no confusion.
Today I will show you how to use the WordPress manager in Softaculous.
What Can I Do With The WordPress Manager?
It allows you to manage a variety of important settings for your website. These include:
WordPress Core Updates
Set up Automatic Updates for Core, Plugins and Themes
Enable / Disable Search Engine Visibility
Change Website URL
Enable / Disable WordPress Cron
Change Site Name
Enable / Disable WordPress Debug Mode
Change WordPress Password
Multiple Database Options
These are all in one location and can be accessed at any time, making it much more convenient than doing these directly on your website or through the cPanel. That said, there are a few limitations to discuss.
For example, while you can enable or disable automatic updates for plugins, doing it in WordPress actually gives you the option to determine which plugins receive automatic updates. This gives you much more control over plugins and how they behave.
The WordPress manager at Softaculous excels at making large-scale changes but does not give you the same level of control as logging in directly to WordPress's own back-end.
But, if for some reason you can't access the admin account, this method has more functionality than, say, using cPanel.
How to Manage WordPress with Softaculous
The WordPress Manager was added to Softaculous in version 5.6.1 and is designed to help manage your WordPress installation. It can be accessed through the cPanel as long as your web host supports it. Therefore, you must be able to log in to the cPanel.
Step 1: Access the WordPress Manager
The first step is to actually access the tool. Fortunately, it is very easy to find.
Start by logging in to your web hosting account.
Enter cPanel the domain name you want to use. If you want to do it on multiple domains, you'll have to do them one by one.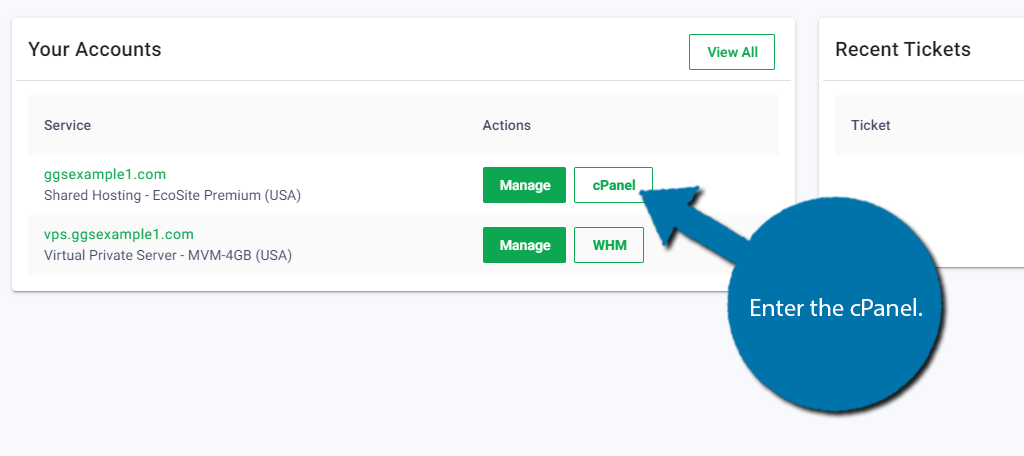 Scroll down to the Software section and select WordPress Manager by Softaculous option.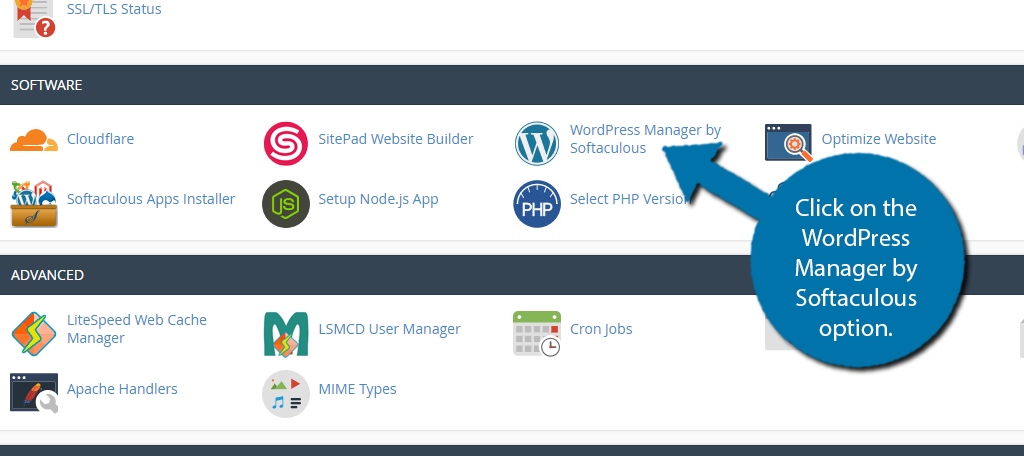 Next, I'll cover the different settings you can control with this tool.
Step 2: Login and Change Password
Here you can see your domain name and sub-domains that use WordPress. You can click on the "Login" button to log in as the administrator for that relevant site.
You can also change the password for the admin account by clicking the Change Password option.
A small popup window will appear containing your Admin username and password. Enter a new password and click on the "Save" button.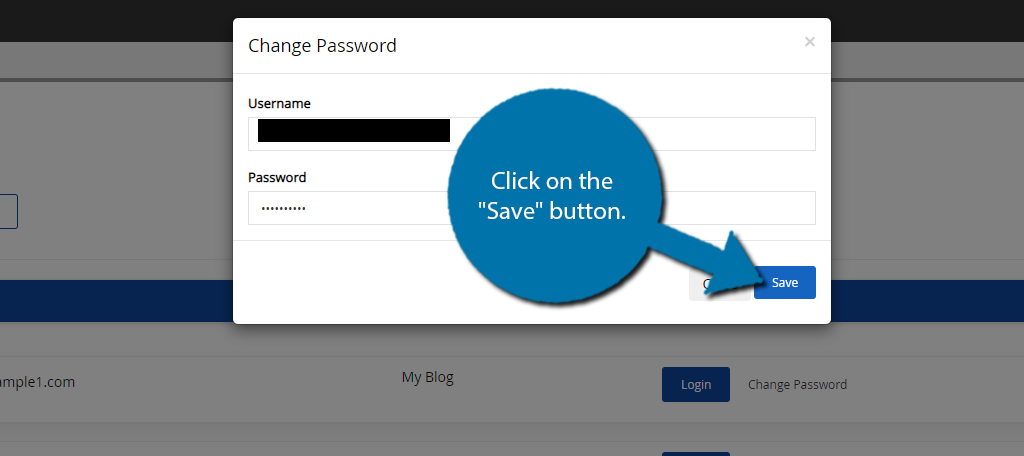 Note: The WordPress Manager at Softaculous can only change a password for the admin account. For everyone else, you will need to log in to WordPress as the administrator and change the password from the Users area.
Step 3: Change URL and Site Name
You can change the URL and Website name directly from this section. However, I strongly recommend not change the URL if you've already been developing content for the site. This is going to be a disaster and destroy your sites while potentially creating hundreds of 404 error pages.
Click on the small arrow to expand the settings.
Note: You can also check if an update is available on that site. It will say "Updates available" in orange if yes.
On the left hand side, you can see the Site Information section. It contains an image of your site, the URL of the Website, and the Name of the Website. It is always recommended to change the default "My Blog" to the name of your real blog.
Type the new information in the text boxes and click on the "Save Site Info" button.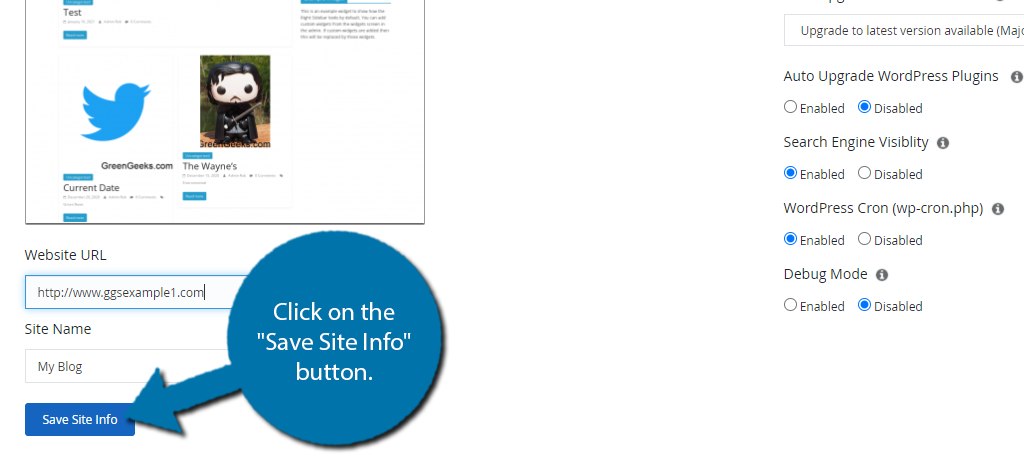 Step 4: Change the Configuration
The configuration settings are the real meat and potatoes of this tool. One important thing to mention is that all the changes you make are saved at once. Therefore, you should only do them if you are sure.
The first two options affect how the core WordPress files work. You can manually update the WordPress version by clicking the "Upgrade Now" button. You can also use the drop down menu to select whether the core files should update automatically.
Note: If your site is up to date, you will see a green "Update" button instead of an "Upgrade Now" button. If auto updates are on, this should be the only button you see.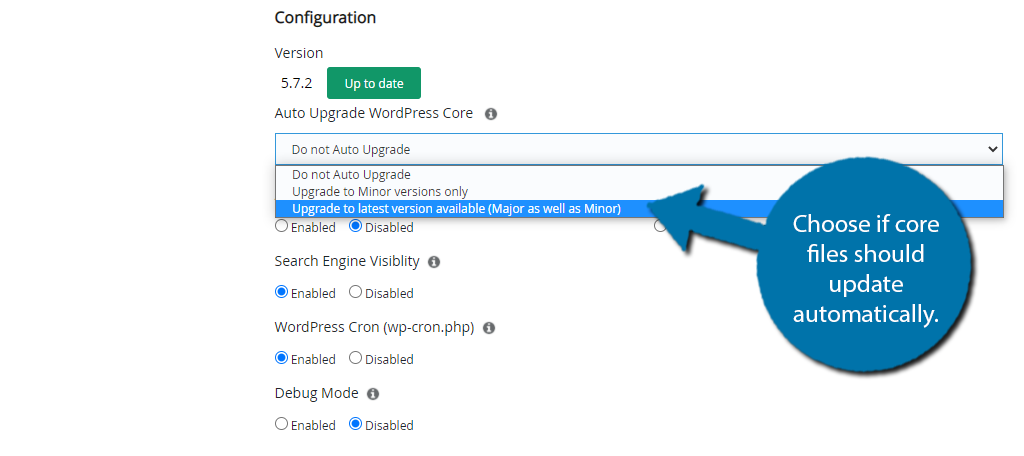 Below is the automatic update settings for plugins and themes. By default, both of these are set to "Disabled."
To enable them, select the option enabled.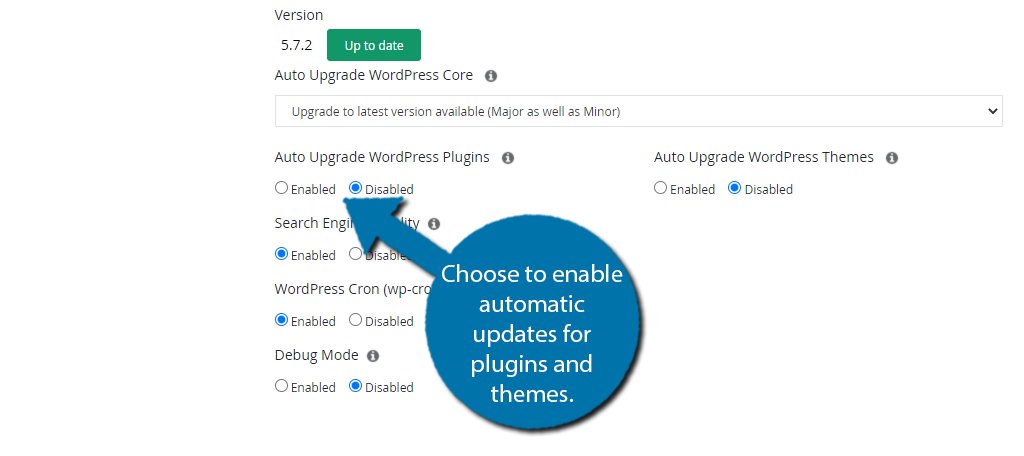 Next is the search engine visibility option. This enables search engines, like Google, to crawl through your website and index pages for search results. By default, this is on and should be left that way. Turning off this can address your sites and traffic.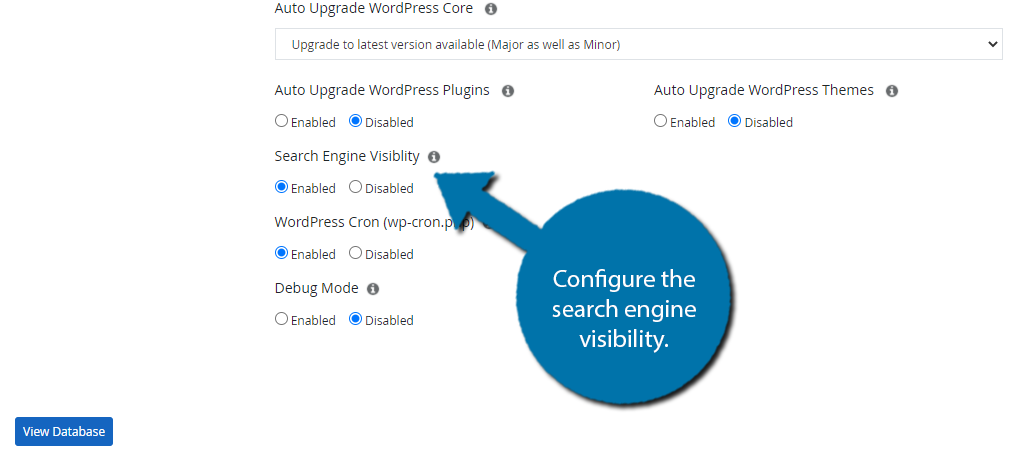 You can now choose to enable or disable WordPress Cron. It is highly recommended to leave it on, especially if you are already using a plugin to manage Cronjobs in WordPress.
And finally is the Debug Mode. This is an extremely useful tool to help you find out what is causing a critical error on your site. This should only be enabled when a critical error occurs. Once you have identified the error, disable the feature.
Step 5: Database Options
The final part of WordPress manager from Softaculous deals with your database. It allows you to perform a variety of functions with one click. These include:
Creating a Clone
Create a Staging Copy
Backup Creation and Restoration
Remove WordPress Installation from Softaculous
Deleting Files and Folders in the Database
All of these options can be accessed by pressing their respective buttons at the bottom. There is also a button that allows you to visit your database, but you will need to log in to phpMyAdmin.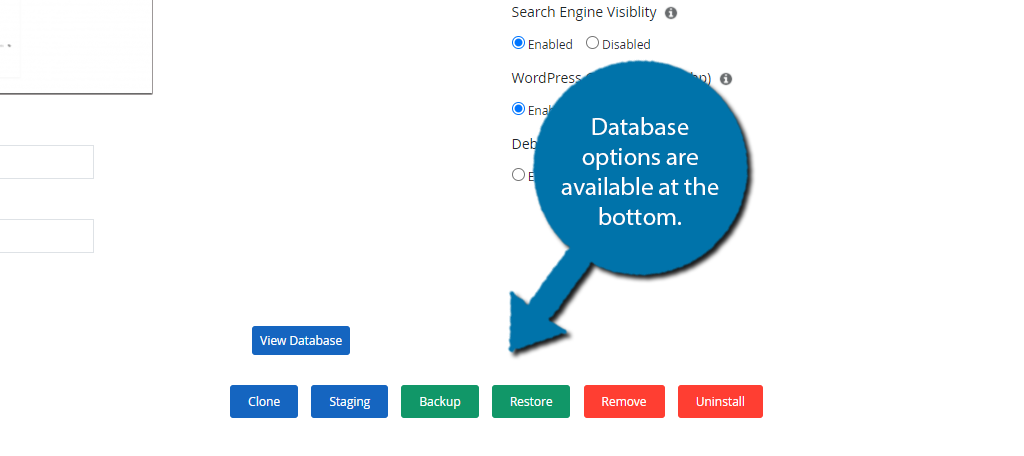 Each button will make a popup window appear that contains the necessary settings associated with each option. Simply go through the settings of whichever one you use and save the changes when you're done.
I would like to mention that the backup recovery tool is extremely useful if you eventually get locked out of your site. It can be accessed here and is one of the best places to do so.
This locks WordPress manager from Softaculous tutorial. Congratulations on learning how to better manage your WordPress settings.
Improve Your WordPress Management Skills Today
WordPress is an incredibly adaptable platform, which is exactly why it has such a large audience. And while WordPress is beginner-friendly, it can be a bit daunting when you're just starting out. Taking advantage of WordPress manager from Softaculous is a great way to streamline the process.
However, it comes with some flaws.
Mostly, this includes the restrictions on what you can actually do and modify. The tool is designed for broad actions across your WordPress installation. Therefore, there are better places to refine your settings and choose how the website functions as within the admin panel.
In many cases, plugins provide far more customization options than installing WordPress by default.
Did you find WordPress manager Softaculous useful? Which feature did you find most useful?